5 Ideas for Adding Videos to Your Real Estate Business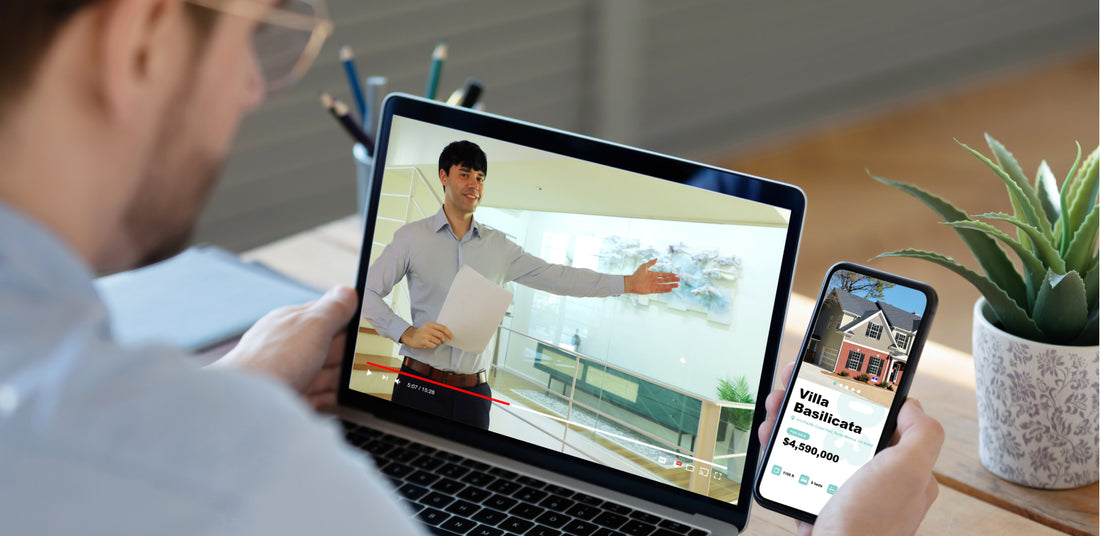 When it comes to home tours and listing presentations, videos are everything. They create a digital experience. They make clients feel like they're right there - leaning against the cool, marble island in a modern kitchen or lounging on the oversized couch of a high-ceiling living room. But videos can do even more than offer experiential moments during the home marketing and sales process; they can also visually heighten your business in unendingly creative ways. To get you started, here are five video ideas to try:
Produce market updates. 
As an agent, there's one question you get asked over and over again: How's the market? With video, you can finally (and consistently) answer. Publishing a local market update video provides you with high-value content you can distribute on a regular basis, and a market video positions you as a true expert in your field. Before you film, research the latest stats. Associations and MLSs are a great place to start for updated, accurate data you can reference and attribute. Quick tip: Figure out exactly when this data gets released — it's usually weekly, monthly or quarterly — and plan to film your video as soon as the data is available, so your content is fresh. Next, set up your smartphone and use a camera solution like Pivo Real Estate to film your update. You can even use Pivo Present to share slides as you talk on camera. Finally, gather your thoughts before you press "record." Sharing data is fine but adding your analysis is golden. What are you seeing in the market? Are bidding wars and multiple-offers rampant? Are homes moving quickly and is inventory loosening or tightening? By adding insights, you ensure your video content is unique to your perspective on all things home.
Show off your town. 
An AI-empowered tool like Pivo Real Estate features Auto Tracking that will follow you around a room. This can most obviously enhance your 3D home tours but it can also be used in places outside of the residential property sphere. If you're visiting a restaurant or shop between client meetings, why not walk around and show viewers an insider's look at your favorite, local mainstay? 
Provide behind-the-scenes (BTS) clips.
Viewers love a good BTS moment. From organizing your office space to driving to showings, your life as a real estate agent provides the ultimate sneak peak into an industry people want to learn more about. (There's a reason real estate shows are so popular.) For BTS videos, we suggest checking your calendar and filming on a day when you have interesting projects but aren't so busy that taking videos might feel overwhelming. The best BTS footage will happen when you're totally relaxed and authentically you. And by the way, with Pivo Real Estate you can film these behind-the-scenes clips hands-free. Then, you can easily stitch them together into a BTS vlog. Pivo Real Estate gives you plenty of flexibility to share your day without constantly holding a phone in your hand. 
Bring your pet into the mix. 
This idea only works if you have a pet (although you could borrow one for the day). The truth is, in the content world, you'll always win if you include adorable puppies and kittens in your footage. For a twist on personal videos, use Pivo Real Estate's Auto Tracking feature to track your pet in your backyard as you work on the patio, at a dog-friendly spot in the office or even outside walking a new listing. Curb appeal never looked so cute! 
Capture before-and-after transformations.
There's something so satisfying about watching home interiors transform from shabby to chic. The next time you're staging a home, renovating a room or doing design work on your own house, set up your smartphone on a tripod and document the "before," strolling around the space as you explain the updates that are about to happen. Then, when the project is complete, set up the smartphone and tripod in the exact same place and film the "after," noting the new elements and how they've transformed the room. Stitch the clips together and just like that - the magic of video will bring your design to cinematic life. 
Interested in video creation but need the help of Pivo Real Estate? Click here to unlock special pricing on our products. Take an extra 5% OFF today.