Create Beyond Limits with Pivo+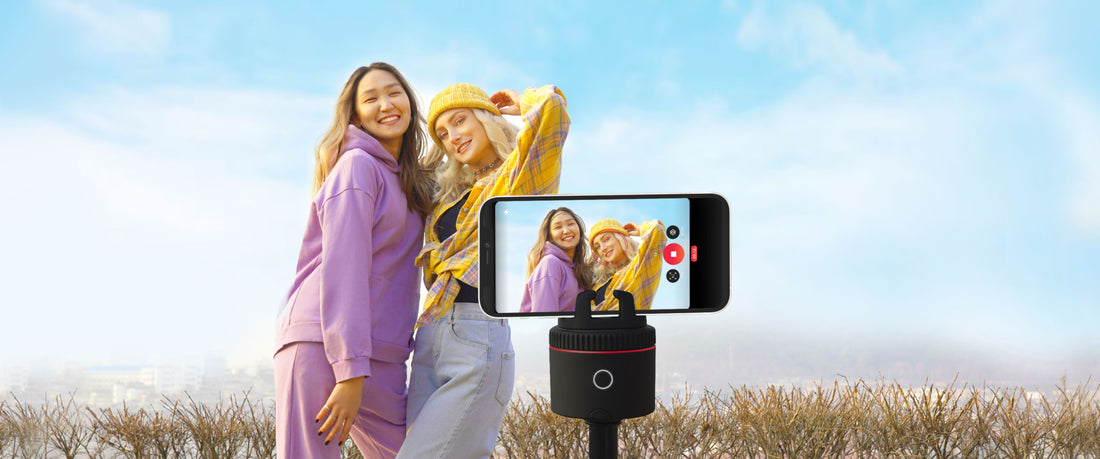 It's finally here. Pivo+.
Here at Pivo, we're dedicated to creation and making sure you've got the best tools possible to make unbelievable content. With this in mind, we've been reaching out to the community and listening to what you have to say to create the ultimate application for your Pivo Pod. Pivo+ is a culmination of all your Pivo favorites, such as Auto Tracking for your photos, videos and video calls, plus the addition of new features that will elevate your Pivo experience and your ability to share your content with the world.
Say hello to your new favorite app.
PIVO PRESETS
One of the huge benefits of Auto Tracking with Pivo has always been your ability to customize your experience with our settings. Want to move further away from your Pivo Pod? No problem, we have Auto Zoom. Tracking in difficult lighting? Tracking Exposure is designed for just that.
But there's one thing we realized was lacking from these features: the convenience of applying and using them everytime you capture with Pivo. We get it. Sometimes, you just want to set up your Pivo Pod, open the app and know that everything is ready to track perfectly like it did the other day.
So, say hello to Pivo Presets.
With Pivo Presets, you'll finally be able to save those settings that you nailed on that one day for that one perfect shot. Now you can have a Preset for dancing at the studio, dancing at home, riding your horse indoors, outdoors, whatever, wherever, and however you like!
Convenience and consistency is now possible with Presets on Pivo+.
VIDEO CALLS INCLUDED
Connecting with other people has evolved so much in such a short time. Now, the convenience of interacting online has opened up infinite opportunities for people to connect from all over the world. Be that with clients living in another country or coaches holding remote lessons, our ability to communicate through technology such as Pivo+ is exciting and full of potential.
What was once only available with Pivo Cast has been improved and implemented into one application for your convenience.
AUTO TRACKING
One of the most popular features of the Pivo is the ability to use Auto-Tracking to create your content. Using AI tracking technology, there's never been an app better equipped to follow your every move. You can finally focus on creating the content you've always wanted, while Pivo stays focused on you. Whether you're creating a cooking tutorial, recording your dance rehearsal, or preparing for a horse riding contest, Pivo has the settings to keep you in frame.
Face, Body, and Horse Tracking
Face Tracking utilizes facial recognition to focus on your face and keep you in frame so you can take hands-free photos, videos or video calls. No longer do you have to worry about readjusting the camera, or asking so to help you record. Just select your tracking mode and you are good to go.
But what if you won't always be facing the camera? That's where Body Tracking comes into play. Not only can the app do face tracking, but it is able to detect your body as well. Now you can turn as you please and Pivo+ will continue to track you no matter where you go.
Face and Body provide endless possibilities for creation, but here at Pivo we strived to go the extra mile by adding our Animal Tracking features. Currently with Pivo+, you're able to utilize Horse Tracking which, just like Body Tracking, detects the body of a horse. Record your horse riding sessions, train with your coach using the Pivo+ Meet mode, and never worry about going out of frame. And who knows what might come next? There are endless possibilities with Pivo.
AUTO ZOOM IN & OUT
Film up close or at a distance for that seamless shot you've been looking for. You'll never have to worry about catching the important moments, because Pivo+ will make sure you're always in focus and in frame.
When Auto Zoom is selected, the zoom will automatically be adjusted to make sure you stay within 10% of the frame when you move closer or further away from your Pivo.
PLAY MUSIC & RECORD
If you visit our Official Instagram Page you can see how extremely active our Pivographers are. Whether it's dancing, working out or roller skating, our users all over the world enjoy being handsfree with their Pivo. So why not add music to make it all that more fun?
New with Pivo+, you can enjoy your favorite tunes and record creative videos at the same time. Just start playing your song on your favorite music app, switch back to Pivo+ and record. No more compromising background music to record content!
We can't wait to see all the insanely creative things you'll make with Pivo.
This is just the beginning of where we plan to take the app. Here at Pivo, we're dedicated to creating the best experience for content creation for every creator. So, enjoy and we can't wait to bring you more with Pivo+.
Pivo+ is available for download in the App Store and Google Play and is free for all Pivo users.